Safe Working During Covid-19
Information for our Customers and Suppliers
As a responsible organisation, the safety of our staff, our customers and our suppliers is of paramount importance as we fight the spread of Coronavirus.
We have created and implemented a new COVID-19 Safe Working Policy and a COVID-19 External Safe Working Procedure to enable us to bring in new safe working procedures as we increase our production and conduct a phased return to work for our staff.
We are now working within strict new safety guidelines, including full compliance with social distancing guidelines throughout the factory and communal spaces, as well as mandatory PPE equipment, hygiene and cleaning procedures.
Information from the UK Government, Health & Safety Executive, Public Health Wales, and the World Health Organisation is constantly being updated, and we will continue to monitor official sources for the latest guidance and control measures.
For more information, contact Toby Ambler, H&SE Manager.
---
Staying COVID-19 Secure in 2020
We confirm we have complied with the government's guidance on managing the risk of COVID-19, as outlined in our Staying COVID-19 Secure Certificate.
Five Steps to Safer Working Together:
We have carried out a COVID-19 Risk Assessment and shared the results with the people who work here
We have cleaning, handwashing and hygiene procedures in line with guidance
We have taken all reasonable steps to help people work from home
We have taken all reasonable steps to maintain a 2m distance in the workplace
Where people cannot be 2m apart, we have done everything practical to manage transmission risk.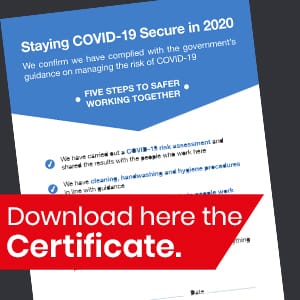 ---
Support for Customers and Suppliers
As well as ensuring the safety and wellbeing of our staff, we are committed to providing a safe environment for visitors to our Chepstow site. The following Risk Assessments detail the control measures we have implemented to ensure safe working practices:
Site - COVID-19 - Working safely in or from a vehicle RA
Site - COVID-19 - Working safely in offices & contact centres RA
Site - COVID-19 - Working safely in factories, plants and warehouses RA
Site - COVID-19 - Working safely in R&D RA
Site - COVID-19 - Working safely in London Design Studio RA
Useful Links
As you consider the safe operation of your own business, please find below useful links from the Government and Public Health England to assist you.
Guidance for employers and businesses on coronavirus (COVID-19)
Social distancing in the workplace during coronavirus (COVID-19): sector guidance Advice for employers on social distancing during coronavirus (COVID-19).
Good practice for employers and Social distancing in the workplace - principles
---
HOW CAN WE HELP?
Let's talk. For more information about how to become an AluK partner please call us on 01291 639739 or send us and email.