At AluK, we understand that when it comes to specifying aluminium solutions for major projects, having a systems house partner with the scale, expertise and experience to help you achieve your vision is vital. As a global brand with a local, family business ethos, you can trust us to support you from start to finish, no matter how big or complicated your project.
To find out how we're leading the way in aluminium call 01291 639 739, or email us here
---
AluK expertise in action


With seventy years heritage of outstanding quality and service, our business is founded upon traditional values such as reliability and trust
2019 marks our 25-year anniversary as a systems house within the aluminium industry in the UK
We support our industry through continual investment – most recently with a £25million investment in our new headquarters that includes a state-of-the-art powder coating line
We have strong relationships within the commercial and architectural industry and are on a number of high-profile supply chains
We have a dedicated architectural and major projects team who work closely with our customer partners, contractors, developers and architects throughout the project process
---
AluK innovation in action


We were the first company to be awarded an A-rated window and continue to drive the industry forwards in terms of innovation with our window range that includes the 58BW, new C70S and 77IW/IWE systems
We are at the forefront of aluminium design, continuously developing and adding new systems to our portfolio – most recently roof lanterns, sliding doors and curtain walling
We have developed three core product ranges – Optio, Luminia and INFINIUM – that allows customers to access the mass, premium and high-end markets
Our high performance systems not only meet the demands of today, but have been designed to be competitive long into the future by embracing the latest technologies
Our agile working processes enable us to continuously enhance and develop our range of aluminium systems to support our customers with new sales
We have developed a range of systems that commonly share parts such as gaskets, bead, outer frames and ancillaries that support you in reducing your stockholding and increasing your profit margins
We design products with fabrication front of mind - quick and easy to manufacture
---
AluK collaboration in action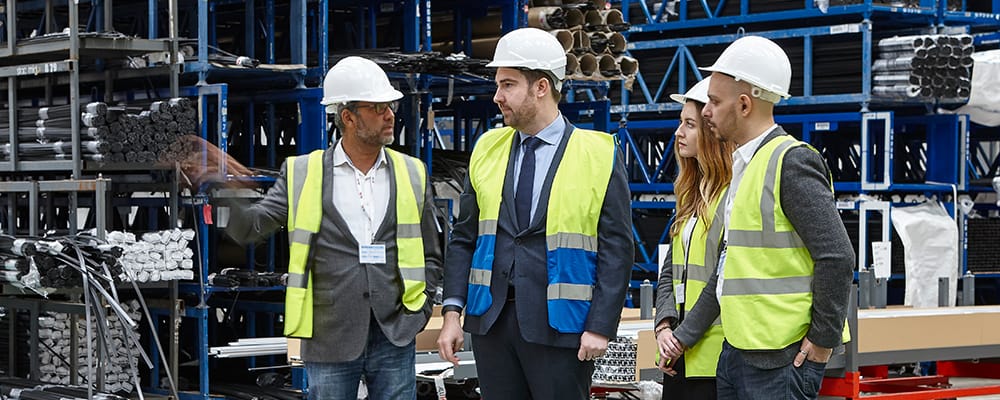 Working in partnership means we're here to help build long-term relationships that allow you to take full advantage of the exceptional strength, versatility and environmental benefits provided by aluminium
We don't provide a one-size-fits-all service, we work with you, detailing the specification your project really needs to make it the best it can be – whilst adopting a 'right first time and on-schedule' attitude
We'll help manage the project to ensure that our systems are ready when and where you need them to keep projects on track
Value engineering of projects alongside key project partners; architects, contractors, developers, façade engineers/consultants, fabricators and installers
By working alongside key project partners (architects, contractors, developers, façade engineers/consultants, fabricators and installers) we can adopt value engineering processes that optimise cost-effectiveness
---
AluK service in action
We'll work with you to expand your knowledge and understanding of the aluminium marketplace, offering tailored support regardless of where you are on your journey with aluminium
We offer competitive lead times, with stock available on a five-day lead time across four single colours and two dual colours
Our aluminium experts will work closely with you to understand your unique business goals and provide a single-source solution that saves you time and money
We have a dedicated project consultant team, who are able to provide BIM support covering in-house designed REVIT and IFC Objects, wind and thermal calculations, and estimating and design guidance
We pride ourselves on providing exceptional customer service, sales, technical and marketing support
Have a dedicated training facility – AluK Academy that offers out free of charge courses on everything from product knowledge, software, fabrication and installation.
Our project management team will ensure success from the initial design stage through to on-site completion, while our technical teams and service engineers will create and maintain innovative solutions that fit seamlessly into your project
---
AluK support in action
Our AluK Academy offers training courses in fabrication and installation, plus you can also gain professional accreditations and we can help with your Continued Professional Development, helping you to become an expert in aluminium
Our experts will ensure you're fit and ready to grow your business by keeping you up to speed on all the latest legislative changes, market trends and industry insights

---
To find out how we're leading the way in aluminium call 01291 639 739, or email us here
Case study: The Chocolate Quarter
One of the most recognisable buildings in Keynsham, United Kingdom has been given a new lease of life which includes a number of new restaurants, a cinema, spa and swimming pool alongside over 55's living accommodation.
The former Fry's chocolate factory in Keynsham was built in the 1920s, and it later became home to Cadbury. After a £60million investment, St Monica Trust has converted the iconic former Cadbury's chocolate factory into 151 assisted living apartments and a 90-bed nursing care home was project managed by the Andrew Wilson Partnership, with architects KWL of South Wales, and AWW of Bristol.
AluK Commercial Fabricators, EYG Commercial were selected to supply and install approximately 900 AluK commercial windows, curtain walling and a number of automatic commercial doors.
Click here for more information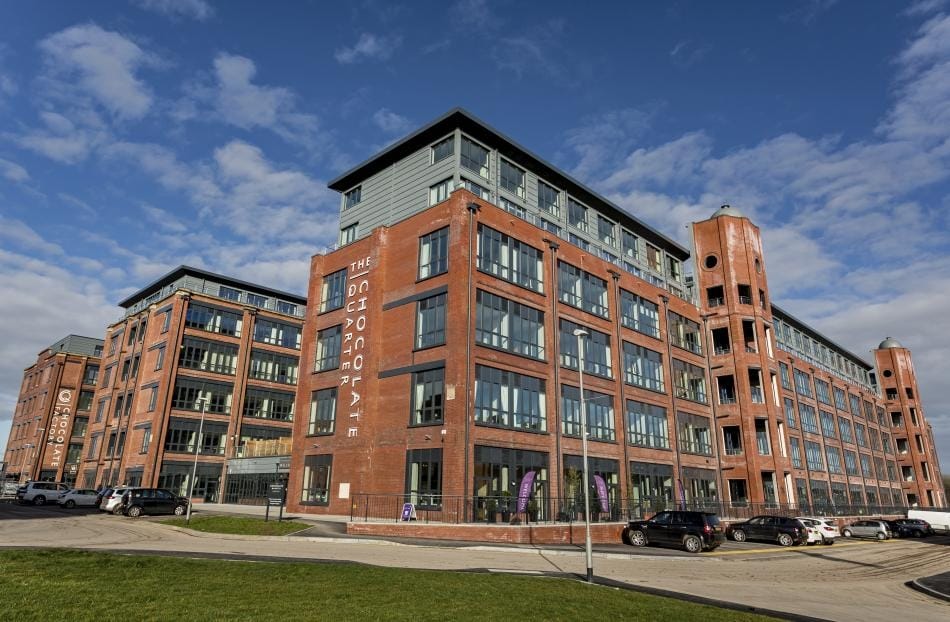 Case study: Alex House
University of Wales Trinity Saint David in Swansea has invested £8 million into the refurbishment, restoration and extension of the Grade II listed former Central Library building to create the new Institute for Sustainable Design. Devised by Powell Dobson Architects, the development incorporates a stunning twin wall façade featuring AluK curtain walling systems, complementing and adding a new dimension to the original design.
The modern, double skin façade extension provides additional 657m2, and incorporates a new reception entrance off Alexandra Road, workshops, teaching spaces as well as design studios. The original circular reading room has been restored and made available as a public venue.
Yvonne Gibbs, architect, Powell Dobson comments: "Due to the context of the Listed Building, it was imperative that the new extension was as transparent as possible to express the original scale and features of the historic fabric behind. The University was also looking for a truly sustainable solution, to both reduce energy consumption and create an inspiring place to learn.
Click here for more information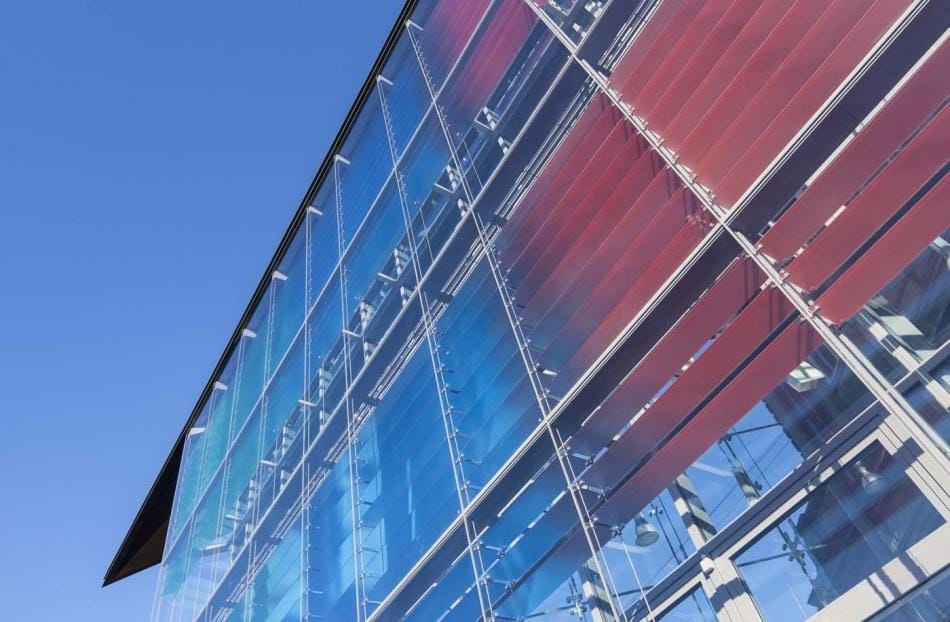 Case Study: 4 views
Contemporary architects AR Design Studio specified AluK's aluminium systems for the 4Views residential project in Winchester, which has been awarded by the Sunday Times for the British Home Awards 2014.
AluK window and door systems were specified to enhance the views over the South Downs hills, whilst providing the homeowners with a long-lasting solution that will keep their home safe. Overlooking the City of Winchester, this stunning house has been designed to create a positive feel and ambience. Based on the principle that a connection with nature is beneficial to the body, the house provides a space for reflection, offering inspiring views over the city and the beautiful countryside.
For the project AluK BSC94 (Duo Rail) and BSC94 (Triple Track) Sliding Door System, as well as 58BW ST Steel Replacement Window System were specified. These have then been used for extensive glazing of walls, roof lights and for the open central garden entrance to allow natural light to flood the upper floor, enhance the feeling of space and ensure natural ventilation and free flow of fresh air.
Click here for more information