AluK Research Reveals Post-Covid Opportunities
12 Apr 2021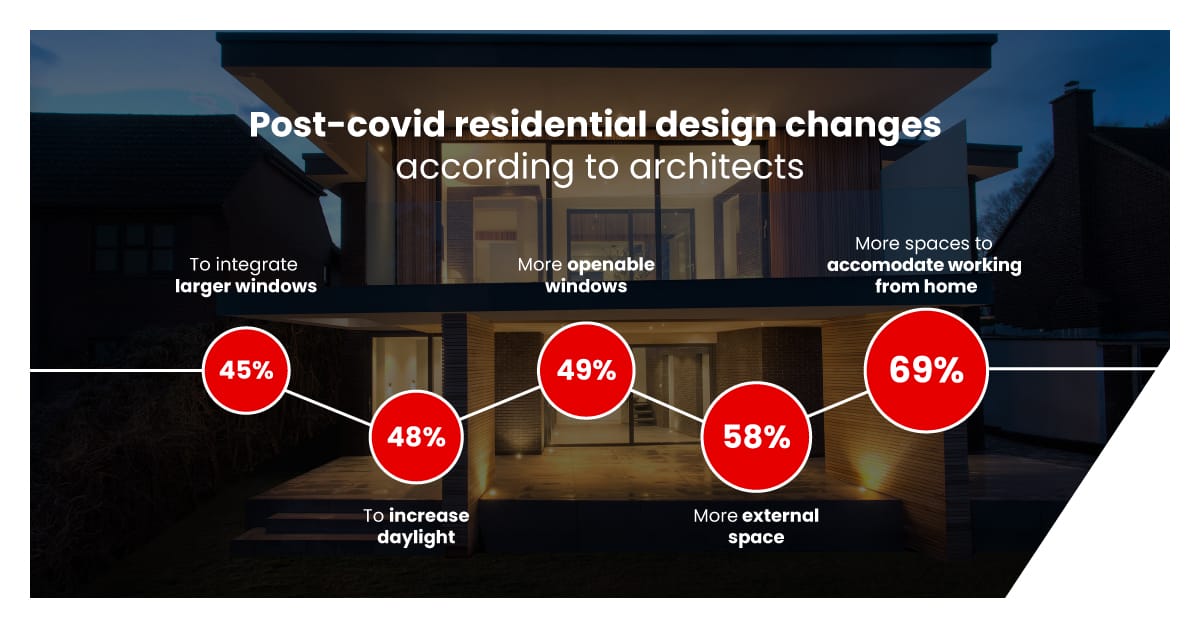 Almost 70% of architects in a recent AluK survey said that they had changed their approach to residential design as a result of the Covid-19 pandemic, and more than 30% said that they had specifically affected their design approach to fenestration.
The research, commissioned at the start of the year amongst members of the Manchester Society of Architects, presents a whole raft of potential new opportunities for aluminium fabricators and installers.
The biggest change for architects in the residential market is that they expect to design spaces which accommodate more working from home (69%), followed by including more external space (58%).
In terms of fenestration, 49% of those who responded said they are likely to include more openable windows in future residential and commercial spaces to improve natural ventilation, 48% said they would be looking for ways to increase daylight, and 45% were considering integrating more and larger windows in their schemes.
Sioned Roberts, AluK's Marketing Director, said the findings bear out what pundits and commentators have been predicting since the advent of the 'new normal' and working from home during lockdown. She commented: "Our market has obviously been head down and focused on keeping up with demand since last Summer, but we very much need to be aware of how that demand is likely to shift once we move out of lockdown.
"It's valuable then to get real evidence and figures to back up what we all perhaps sensed was likely to happen. Architects are obviously key drivers of change in our market so a better understanding of what they are thinking and planning is critical.
"In residential terms, we can see definite trends towards extensions and garden buildings for working from home, which present great opportunities for both our sliders and bi-folds. Similarly, more external space extends beyond just gardens and also includes balconies which is more good news for our range of sliding patios in particular.
"And, more daylight doesn't just mean bigger windows but also slimmer sightlines, which is where our 58BW and new C70S window systems will help customers to win business.
"There's lots to feel optimistic about then as we look towards the end of lockdown, particularly for those businesses, like AluK, which have the resources and operational efficiency to be able to meet demand."
AluK will be supporting customers with sales and marketing tools and advice to help them make the most of the opportunities which lie ahead and continuing to invest in new products designed for the post-Covid construction market.