Meet Anna - I am AluK Woman
05 Mar 2020
As part of the 8th March International Women's Day, we want to highlight the women working at all levels at AluK. Meet Anna, she is our Process Development Scientist. We've prepared an interview where she shares her experience in this industry as a woman.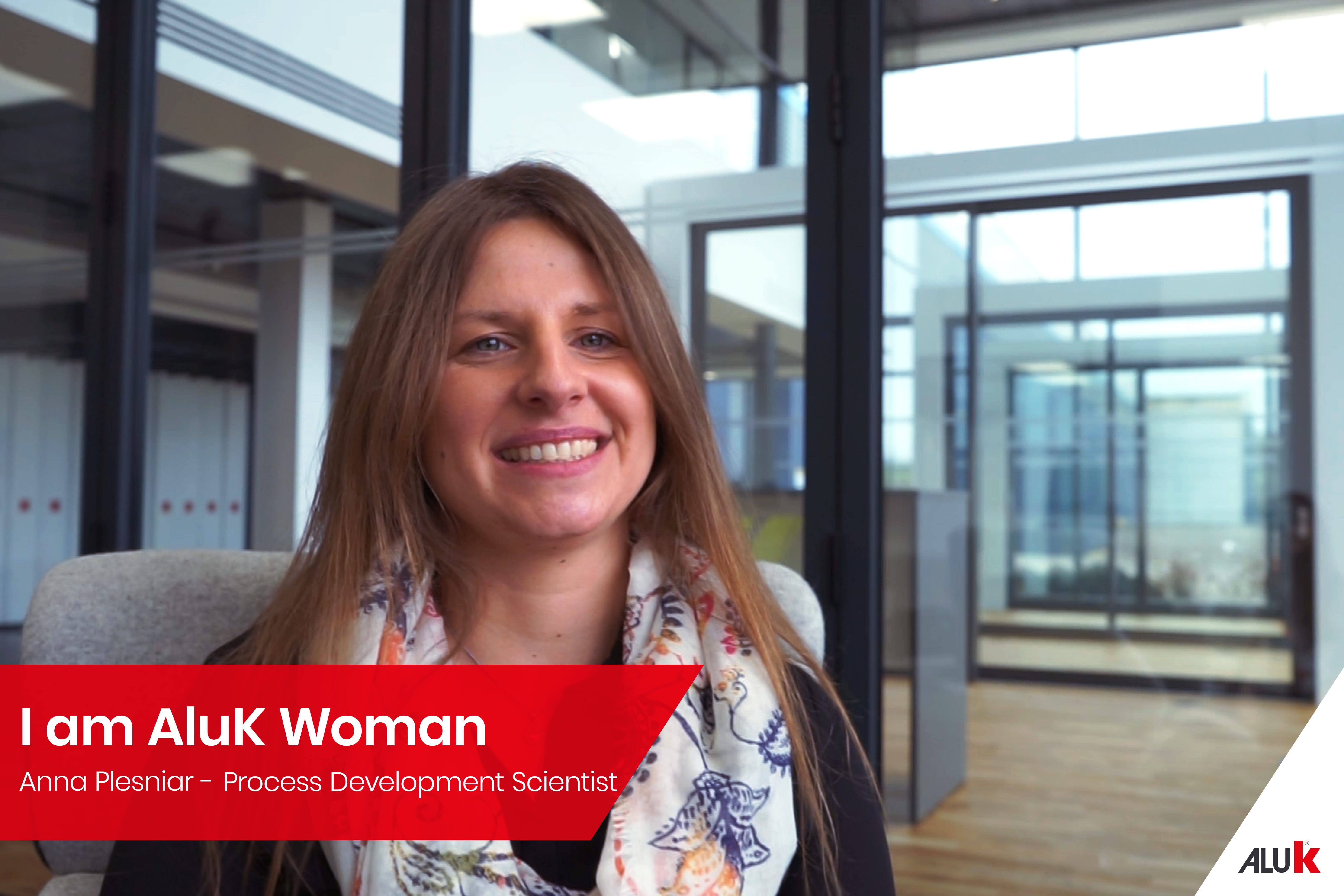 Can you share a little bit about yourself and your work at AluK?
My name is Anna Plesniar and I am an environmental chemist. Since being at high school, I have known I wanted to work as a chemist especially in research and development. Chemistry is easy to understand and remember because it is unique unlike maths or physics and gives the chance to flex creativity. At the university, I found that the environmental field is very interesting and started pursuing a carrier as an environmental chemist.
I joined AluK 3 years ago. I'm a Process Development Scientist and I work mainly in the production sector to develop quality products and improve production processes. My day-to-day activities involve reviewing existing processes, identifying gaps and faults, and then developing processes that solve the problem.
I am also responsible for overseeing testing procedures and fine-tuning processes in order to optimise their performance.
What influenced you to pursue a career in the aluminium industry?
I wanted to be part of a company that takes the time to understand each person's work/life balance and respects it. I also wanted to work for a company that complies with environmental requirements through smart product development and constant improvement.
AluK was an obvious choice. AluK is a global leader in the design and engineering of aluminium window, door and curtain walling systems that share a legacy of a family run business.
What is your biggest accomplishment in your career so far?
I have a few big accomplishments in both my education and my work experience. Probably the most important accomplishment was getting my PhD in Chemistry. Research that makes up the PhD is an original contribution to science, so something completely new that no one else has done before and I'm proud to have achieved it! The second biggest achievement was winning The Unsung Hero Award for the Glass & Glazing Industry in 2018 for individuals who have overcome challenges or implemented unusually innovative and effective approaches in support of their employers and business.
What else would you like to achieve in your career?
In the near future, I would like to become an expert in flash anodizing process, learning as much as I can about the process. In the longer-term, I would like to become a subject matter expert. I would like to develop to the point that I become that go-to person whom others rely upon for the most current information.
How do you balance career & family?
I think it's important to find a balance. I take my job seriously and try to give everything I've got while I am working. However, I try not to lose sight of the fact that my family comes first, and I always tried to do what's best for my family.
Aluminium is a field mainly dominated by men. Have you faced any obstacles in your career which you believe were due to be a woman? If so, how did you overcome this?
One of the most challenging aspects of the carrier in the aluminium industry is embracing new roles, teams, learning new parts of the business and keeping up with the changes. At the same time, these changes come with great responsibility and can be challenging. I overcome this by learning different sides of the business, and I welcome the talent and the knowledge of the team I join.
In your opinions, what challenges women face in the aluminium industry?
-Fear of Failure
-Inadequate Support System
-Gender Inequality
-Limited Knowledge
-Unfavourable Business Environment
-Timidity
What do you think is the best part of being a woman in the aluminium industry?
Women in the industry have a great passion for the work and a commitment. To have the drive to pursue an aluminium industry career, it means not to be afraid of taking any risks. Woman in this industry possess the inner strength to continue and search all possible means to share their ideas with people their work with.
Who has been the most influential person for your career and why?
My first supervisor, Professor Helena Janik, from the University of Technology in Gdansk, Poland. She had high expectations of her team members as she had equally high expectations of herself. She always demonstrated integrity and honesty. She went out of her way to prove her commitment to her team and foresee what we needed in order to be most productive. I learned a lot from her about how to supervise and motivate a team.
What advice would you give to a woman looking to start her career in the aluminium industry?
Believe in yourself and own your own success.
What do you think companies like AluK can do to encourage more women to choose careers in the aluminium industry?
It takes time and different measures to ensure that the aluminium industry attracts more high-quality female candidates. The first step would be through the sourcing and recruiting efforts that the industry decides to implement like:
Create a female-friendly benefits program
Take sexual harassment seriously
Promote your current female employers and particularly women in positions of power
When those efforts improve, the number of working women at your company will naturally increase.
​