MAKING THE MOST OF THE SPACE IN OUR HOMES
While the garden is the new playground, the kitchen the new café and the dining room the new office for many, there's an even bigger focus than normal on making the most of every single bit of space in our homes.
That's where AluK's range of bi-fold doors comes in – opening up the house to the garden and extending our living space into the outdoors.
A recent, stunning installation of our BSF70 bi-fold door in one Essex property showed just how to use our doors to maximum effect.
The homeowner Jayne was knocking down the wall between her kitchen and dining room to create a larger entertaining space and decided to go one step further and open up the outside deck area to make that part of the new space as well.
She removed the old Rosewood PVC-U French doors which were there previously, increased the size of the opening and replaced them with a three pane BSF70 door in contemporary Agate Grey. The finished result brings extra light into the new room and helps to create a seamless link between inside and out.
Jayne chose the aluminium bi-fold option because the slim sightlines maximised the light coming in, and she liked how smoothly and easily they opened and closed. She said: "Opening out, the BSF70 panes are tucked away when they are open and give me a much bigger, more sociable space to entertain and relax. I looked at other options, but the bi-fold made perfect use of the space and gave me the contemporary look and feel I wanted."
The AluK BSF70 door opens onto a stylishly furnished deck area, complete with outdoor lighting. It was fabricated by Alu-tec Ltd and installed by the Climatec Home Improvements team.
Tony De Cort from Climatec Home Improvements added: "These AluK doors are reliably quick and easy to install and give us as well as our customers real peace of mind when it comes to security and weather performance. RAL7038 Agate Grey is a nice alternative to the RAL7016 Anthracite Grey which customers so often choose and perfectly suits the white render of Jayne's home."
More details on the BSF70 are here.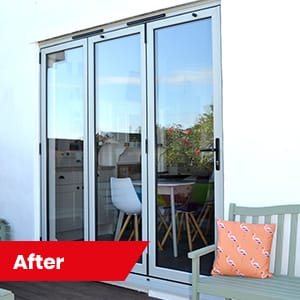 ---
How can we help?
Because we see every project differently, you may want to find out how we can help with yours. Let's talk. Call us on 01291 639739 or send us an email.