Product description
The standard, raised.
Beautifully engineered and brilliantly functional, the C70S delivers class-leading performance with U-values of 1.3 W/m2K, advanced water tightness and a range of features to simplify fabrication and installation.
Meeting and exceeding the key thermal, acoustic and performance demands of the architects and specifiers, the C70S is the perfect, aluminium solution for the light commercial market.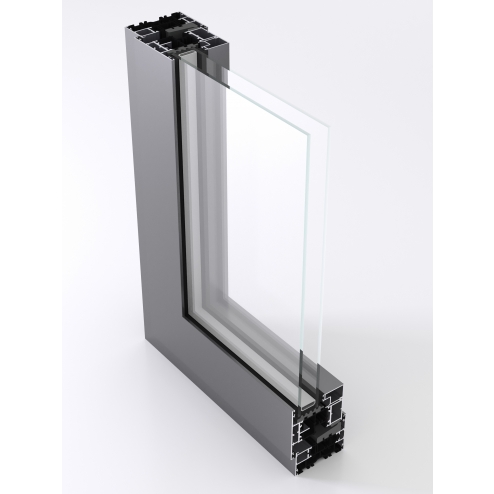 Design features
Variable handle position
Trickle ventilation
89mm Sightlines
Certified under the Secured By Design scheme
Tested to PAS 24
Options
Glazing 24mm – 50mm
Internally and externally glazed
Available in a range of single or dual colour, anodised and textured finishes
Three levels of insulation to choose, Standard, Partial and HI.
Available in the following configurations: top hung, side hung, tilt & turn and fixed light.
Available for commercial and residential applications
| | C70S Open In | C70S Open Out |
| --- | --- | --- |
| performances | | |
| U value W/m²K (Double glazing) | 1.3 W/m²K | 1.3 W/m²K |
| U value W/m²K (Triple glazing) | 1.1 W/m²K | 1.3 W/m²K |
| Window energy rating | A rated | A rated |
| Air tightness (Pa) | Class 4 (600 Pa | Class 4 (600 Pa |
| Water tightness (Pa) | E900 (900 Pa) | E1500 (1500 Pa) |
| Wind load (Pa) | Class E2400 (2400 Pa) | Class E2400 (2400 Pa) |
| Security PAS 24 | PAS 24 & SBD | PAS 24 & SBD |
| Secured by design | X | X |
| Configurations | | |
| Tilt & turn | X | x |
| Top hung | X | X |
| Top swing | x | x |
| Side hung | X | X |
| Bottom hung | X | X |
| Fixed Light | X | X |
| Multi light | X | X |
| french casement | x | x |
| Punched openings | X | X |
| Triple glazing | 24mm-50mm | 24mm-50mm |
| Ribbon windows | X | X |
| 100 mm restriction | X | X |
| Mullion/Transom options | X | X |
| Size limits | | |
| Top hung (max weight) | 130KG | 180KG |
| Side hung (max weight) | 130KG | 55KG |
| Bottom hung (max weight) | 130KG | |
| Fixed light (max weight) | 300kg | 300kg |
| features | | |
| Frame depth | 70mm | 70mm |
| Dual color option | X | X |
| Multi-point locking | X | X |
| Locking handle | X | X |
| Glazing options | X | X |
| Glazing thickness | 24-50mm | 24-50mm |
| Trickle ventilation | X | X |
| Integrated with AluK's Curtain Walling | X | X |
| Aesthetics | | |
| Bay | x | x |
| Chamfered | x | x |
| Contemporary | X | X |
| Ovolo | x | x |
| Heritage | x | x |
Please click here to download supporting collateral for this product which includes the following;
Brochures
Data sheets
Wall charts