Rejuvenating Bristol's harbour with AluK systems
Premium AluK products were specified for the dramatic redevelopment of Wapping Wharf in Bristol, turning a forgotten harbour into a bustling community. First developed in the 18th century by Bristolian merchants needing more space for their shipyards, the dry dock was a busy shipbuilding hub right up until the 1960s. Since 2011, Bristol City Council have been working to restore the area's former glory, installing shops, cafes, bars and more.
56 outlets were installed at CARGO, the brand new retail hub installed at the wharf, all of which feature AluK's premium-standard BSC94 patio doors. Maximising light and offering the best possible view of the surrounding harbour whilst being robust enough to handle high levels of traffic, the reliable, heavy-duty doors were supplied for each container.
The sleek, contemporary look of the doors contrasts dramatically with the dockside harbour's character, plus their high-performance profile and slim sightlines give every shop front the modern, stylish finish required to revamp the area.
CARGO is part of a much larger regeneration scheme for the area, which also includes building 600 new homes, public spaces and art installations, all intended to give the local community a beautiful place to relax and enjoy a once-forgotten part of Bristol's heritage.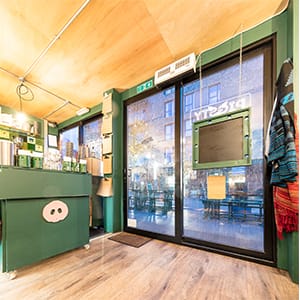 ---
How can we help?
Because we see every project differently, you may want to find out how we can help with yours. Let's talk. Call us on 01291 639739 or send us an email.