Award winning conversion features AluK windows and doors
An unloved and uninspiring 1970s office block in Bristol's Redcliffe harbourside conservation area has been transformed into a stylish contemporary apartment development featuring AluK's versatile 58BW and 58BD window and door systems.
The project at Redcliffe Place in Bristol is part of an award winning* scheme by Change Real Estate, which has also included the refurbishment of six adjoining Georgian townhouses previously used as offices into luxury period apartments.
Alec French were the architects for the 1970s conversion and used contemporary cladding framing AluK floor to ceiling windows to create a striking visual contrast with the Georgian terrace alongside.
AluK's slimline 58 window and door systems were chosen for the project because they have a proven track record in this type of residential development and could easily meet the demanding performance specification laid down.
The windows are full height in all of the 14 apartments to make the most of the natural light coming into the open plan living spaces and to provide the best possible views across the city. They are triple glazed throughout, achieving a U-Value of 1.2 W/m2K and have PAS24/Secured by Design accreditation.
The 58BD glazed balcony doors achieve a U-Value of 1.4 W/m2K and, like the windows, maximise the natural light.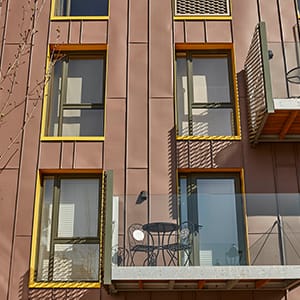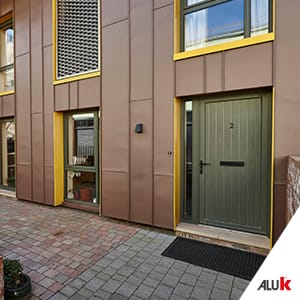 They also all comply with the Lifetime Homes specification laid down by the developers which ensures that the apartments remain accessible and adaptable for residents in the future, with features such as low thresholds on the doors and handles on the 58BW windows at a usable height.
AluK's 58 window and door systems offer the ultimate in versatility. BRE Green Guide A rated, they can be used to fabricate a wide range of styles and configurations to suit both traditional and contemporary properties.
All of the windows and doors at Redcliffe Place were fabricated and installed by Cardiff based Vellacine and the main contractors were Integral Build.
*The redevelopment at Redcliffe Parade and Redcliffe Place won the Refurbishment Project of the Year at the 2018 Housebuilder awards and the Residential Development of the Year in the 2018 Michelmores Property Awards
---
How can we help?
Because we see every project differently, you may want to find out how we can help with yours. Let's talk. Call us on 01291 639739 or send us an email.