Expertise
At AluK we understand the needs and demands of the market and we continuously enhance and develop our range of aluminium systems to support our customers with new sales opportunities.
Our business is founded upon traditional values such as reliability and trust, which translates to a strong brand presence and positive reputation within the trade residential market place.
---
Innovation
We pride ourselves on designing products with fabrication front of mind - quick and easy to manufacture.
We are at the forefront of aluminium design, continuously developing and adding new systems to our portfolio. We have developed three core product ranges – Optio, Luminia and INFINIUM – that allows customers to access the mass, premium and high-end markets.
We also have developed a range of systems that commonly share parts such as gaskets, bead, outer frames and ancillaries that support you in reducing your stockholding and increasing your profit margins.
---
Collaboration
Collaboration has always been at the heart of AluK. It's what enables us to continually evolve and improve our aluminium building systems and remain at the forefront of the industry.
By working closely with fabricators across the UK we're able to ensure they have the knowledge, products and leads to continually grow their business. It also allows us to provide all the technical support and hands-on training they need, when they need it most.
---
Service
Our aluminium experts will work closely with you to understand your unique business goals and provide a single-source solution that saves you time and money. Our objective is to provide exceptional customer service, sales, technical and marketing support.
---
Action
We'll work with you to expand your knowledge and understanding of the aluminium marketplace, offering tailored support regardless of where you are on your journey with aluminium.Our dedicated training facility – the AluK Academy - offers free of charge courses on everything from product knowledge and software to fabrication and installation.
Our experts will ensure you're fit and ready to grow your business by keeping you up to speed on all the latest legislative changes, market trends and industry insights.
We also offer an extensive choice of training options at the AluK Academy to both you and your customers, covering everything from Continued Professional Development and toolbox talks to hands-on GQA-accredited training.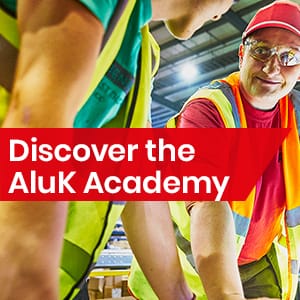 ---
How can we help?
Let's talk. For more information about how to become an AluK partner please call us on 01291 639739 or send us and email.