The F82 Bi-fold – Still Setting The Benchmark
13 May 2021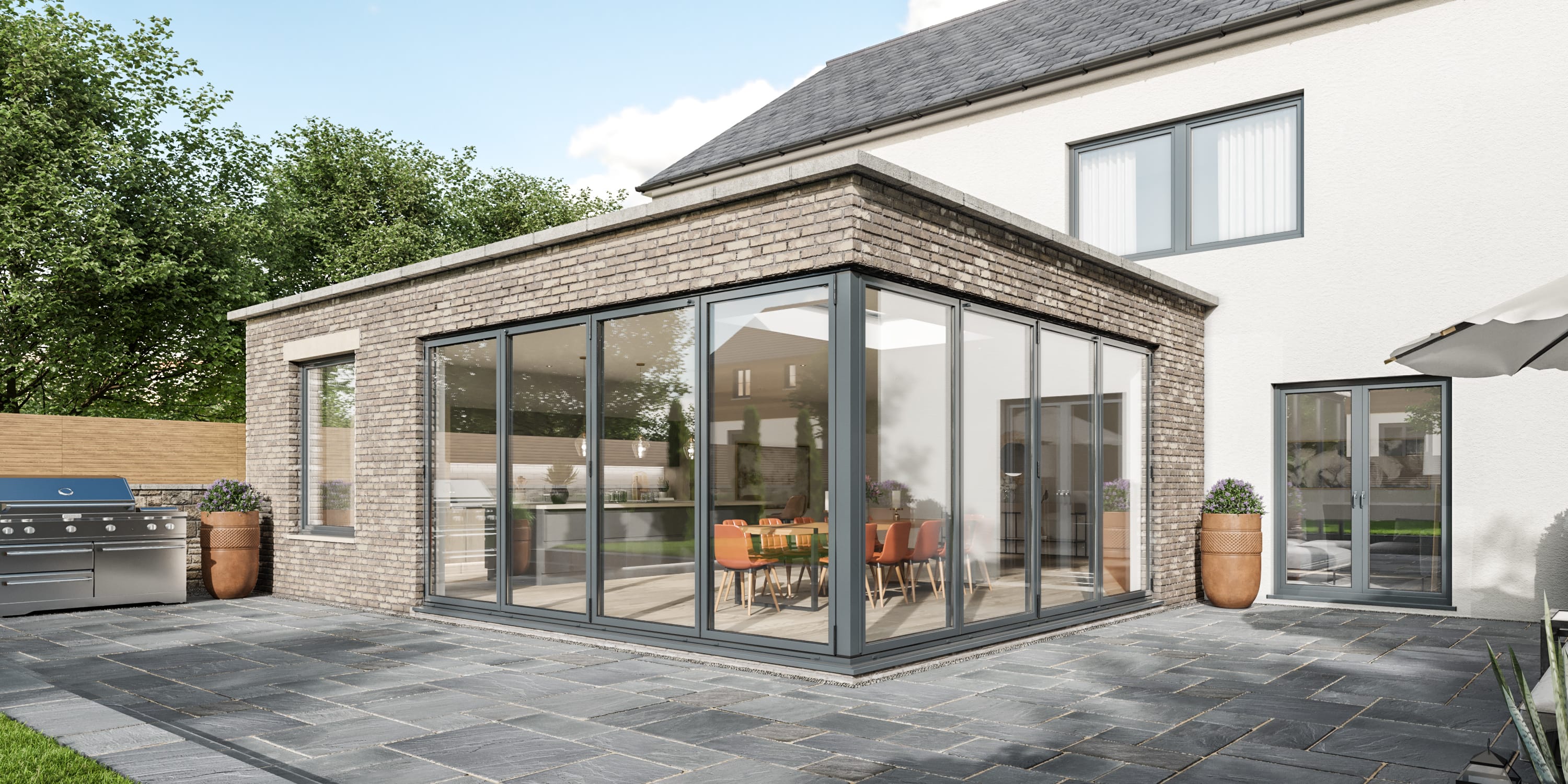 AluK's Luminia F82 bi-fold took the market by storm when it was launched at the FIT Show in 2017. From the company which created the iconic BSF70 more than a decade earlier, it set a new benchmark in the sector for aesthetics, performance, security and thermal efficiency and gave fabricators an opportunity to differentiate their premium offering from the 'me too' section of the mass bi-fold market.
Now tested, tried and trusted in that premium sector of the market, AluK says that the F82 is the ideal product for customers who want to tap into the £250bn savings mountain which the Bank of England estimates affluent households have accumulated after almost a year in various forms of lockdown.
In terms of aesthetics, the F82 is packed with contemporary design features which buyers have already shown they really value. The most obvious is the slim sightlines, which measure a consistent 97mm all the way round the frame, cill and jamb and just 122mm at the interlock. This creates a bigger expanse of glazing to let more light flood in, with a distinctive square bead emphasising the minimalist lines.
There is also a distinctive pop-up T-handle on the traffic door which helps to set the F82 even further apart from less premium offerings. Available in white, black, anthracite, silver and brushed stainless-steel, this bespoke handle has been rigorously tested to 25,000 cycles, equivalent to around 80 years of regular use.
When it comes to performance, heavy duty 150kg capacity stainless steel compact rollers on the bottom of the F82 ensure that it opens and closes smoothly and effortlessly time after time; while class leading weather performance (up to Class 4 air permeability and Class E900 water tightness) guarantees that the door will withstand anything the British weather can throw at it.
Of course, the AluK F82 bi-fold has achieved PAS24 security accreditation, ensuring that it can be fitted in new build projects which require compliance with Approved Document Q, and it boasts impressive U-Value performance to satisfy even the most demanding specification (1.34 W/m2K double glazed and 0.9 W/m2K triple glazed).
Like the rest of the AluK bi-fold range, the F82 is extremely versatile. There are open-in and open-out, left and right options available for doors between two and seven panels in sizes up to 1200(w) x 2600(h), as well as corner posts to suit almost any configuration. There is even the flexibility to fabricate PAS24 accredited single and double doors using the same components to achieve a consistent overall look.
As well as the new business opportunities, one of the biggest advantages of the F82 for fabricators that it can be manufactured using just four key profiles and a reduced number of gaskets. This massively simplifies manufacturing and significantly reduces the necessary stockholding.
For installers, it is as consistently fitter-friendly as the rest of the AluK range and includes two clever, low sightline cill options as well. Integrated cills have a new outer frame profile, which can be easily clipped onto either side of the frame rather than sitting on top, and an extensive range of sub sills mean the F82 can be positioned in virtually any construction.
Sioned Roberts, AluK's Marketing Director, stresses how the F82 gives both fabricators and installers the opportunity to achieve strong and sustainable margins for themselves in a bi-fold market which has become increasingly commoditised over recent years. She says: "With the F82, we've used all of AluK's vast experience and expertise in bi-folds to create a door which is quick and easy to manufacture and install yet can command a premium in a market where there has all too often been a race to the bottom on price. That's a huge benefit for our customers."
AluK is supplying the F82 system from its vast, Covid-19 secure 350,000 sq ft facility in Chepstow. Standard colours are available from stock on an impressive 5-day lead time, while additional colours are available to order.